Species:
Iris bismarckiana Damman & Sprenger
Common name:

Iris de Bismarck - Iris de Nazareth

Arabic name:

سوسن بسمرك
2016
Abdel Samad N , Bou Dagher-Kharrat M, Hidalgo O, El Zein R, Douaihy B, Siljak-Yakovlev S (2016) Unlocking the Karyological and Cytogenetic Diversity of Iris from Lebanon: Oncocyclus Section Shows a Distinctive Profile and Relative Stasis during Its Continental Radiation. PLoS ONE 11(8): e0160816. doi:10.1371/journal.pone.0160816
2013
Bou Dagher-Kharrat M. , Abdel-Samad N., Douaihy B., Bourge M., Fridlender A., Siljak-Yakovlev S., Brown S.C. Nuclear DNA C-values for biodiversity screening: Case of the Lebanese flora. Plant Biosystems. 2013. DOI:10.1080/11263504.2013.861530
2009
Saad, L. , Mahy, G. Molecular and morphological variation of rare endemic oncocyclus irises (Iridaceae) of Lebanon. Botanical Journal of the Linnean Society. 2009. 159: 123–135. doi: 10.1111/j.1095-8339.2008.00896.x
2003
Saad L., Khuri S. 2003. Hanging in there by a fall The Oncocyclus of Lebanon. BIS Yearbook. pp 50-53.
2002
Georges Tohmé & Henriette Tohmé. 2002. A THOUSAND AND ONE FLOWERS OF LEBANON. Publications of the LEBANESE UNIVERSITY, Beirut, Republic of Lebanon.
1997
A Guide to Species Irises. Cambridge University Press. British Iris Society, Species Group.
1984
Paul Mouterde. 1984. Nouvelle flore du Liban et de la Syrie. Editions de l'Impr. catholique, Beyrouth, 3 tomes.
1977
Avishai M. , Zohary D. Chromosomes in the Oncocyclus Irises. Botanical Gazette. Dec. 1977. Vol. 138, No. 4, pp. 502-511. Published by: The University of Chicago Press.
1974
Dykes W.R., The Genus Iris. Cambridge University Press.
Endemic to:

Lebanon, Syria and Palestine

Habitat :

Rocky slopes, well drained at the edges of Mediterranean woods

Life Forms:

Geophyte

IUCN threat status:

Endangered B1ab(i,ii,iii,v)+2ab(i,ii,iii,v)
Chromosome Number:

2n=20

Genome size:

18.99 pg/2C
Botanic Description
Tige de 20-30 cm avec des feuilles de 15-20 x1 cm; tépales externes: nervures pourprées, taches pourpre noir.
Seeds
Distribution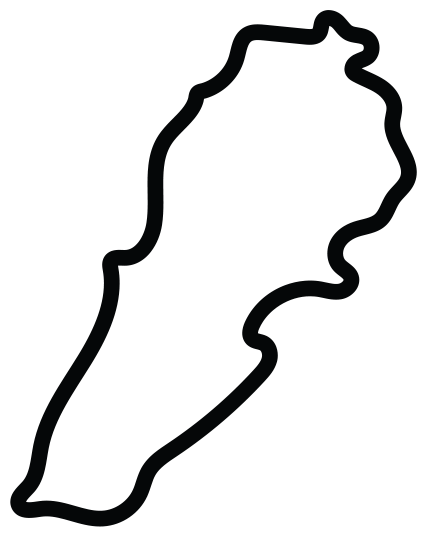 This work is licensed under a
Creative Commons Attribution-NonCommercial-ShareAlike 3.0 Unported License
.