Species:
Iris histrio Rchb.f.
Common name:

Histrio iris - Iris Histrio

Arabic name:

سوسن موشح
2013
Bou Dagher-Kharrat M. , Abdel-Samad N., Douaihy B., Bourge M., Fridlender A., Siljak-Yakovlev S., Brown S.C. Nuclear DNA C-values for biodiversity screening: Case of the Lebanese flora. Plant Biosystems. 2013. DOI:10.1080/11263504.2013.861530
2009
Saad L. , Talhouk S.N., Mahy G. Decline of endemic Oncocyclus irises (Iridaceae) of Lebanon: survey and conservation needs. Oryx. 2009. 43, pp 91-96. doi:10.1017/S0030605308000380.
Saad, L. , Mahy, G. Molecular and morphological variation of rare endemic oncocyclus irises (Iridaceae) of Lebanon. Botanical Journal of the Linnean Society. 2009. 159: 123–135. doi: 10.1111/j.1095-8339.2008.00896.x
2006
Monty A. , Saad L., Mahy G. Bimodal pollination system in rare endemic Oncocyclus irises (Iridaceae) of Lebanon. Canadian Journal of Botany. 2006, Vol. 84, No. 8 : pp. 1327-1338
2002
Georges Tohmé & Henriette Tohmé. 2002. A THOUSAND AND ONE FLOWERS OF LEBANON. Publications of the LEBANESE UNIVERSITY, Beirut, Republic of Lebanon.
1997
A Guide to Species Irises. Cambridge University Press. British Iris Society, Species Group.
1984
Paul Mouterde. 1984. Nouvelle flore du Liban et de la Syrie. Editions de l'Impr. catholique, Beyrouth, 3 tomes.
1977
Avishai M. , Zohary D. Chromosomes in the Oncocyclus Irises. Botanical Gazette. Dec. 1977. Vol. 138, No. 4, pp. 502-511. Published by: The University of Chicago Press.
1974
Dykes W.R., The Genus Iris. Cambridge University Press.
Endemic to:

The east Mediterranean region

Habitat :

Zones rocheuses
Botanic Description
-Bulbe ové, à tuniques fibreuses réticulées, la plupart longitudinales, quelques-unes obliques-transversales.
-Tiges entourées à la base par plusieurs gaines foliaires membraneuses, blanchâtres, suivies d'une ou deux feuilles canaliculées, quadrangulaires, plus longues que les fleurs.
-Spathes linéaires, aiguës. Périanthe à tube court, à limbe bleu violet, 3-5 cm. de long.
-Tépales et branches du style tous dressés à la base, atténués de façon peu prononcée en un onglet relativement large.
-Tépales externes réfléchis aux 2/3 de leur longueur en une lame pouvant atteindre 1.5 cm. de large, portant une tache jaune-clair bprdée de blanchâtre, ponctuée de pourpre foncé.
-Tépales internes plus étroits et dressés, dépassant un peu les stigmates, ceux-ci souvent à marge crénelée.
Distribution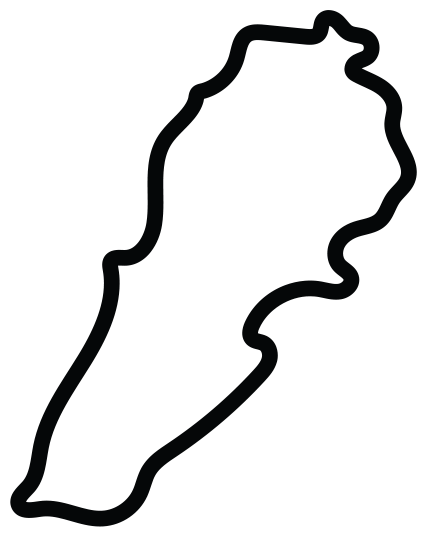 This work is licensed under a
Creative Commons Attribution-NonCommercial-ShareAlike 3.0 Unported License
.