Species:
Cedrus libani A. Rich.
Common name:

Cèdre du Liban
Cedar of Lebanon

Arabic name:

أرز لبنان، أرز الرّبّ
2006
Bou Dagher-Kharrat M., Mariette S., Fady B., Lefevre F., Grenier G., Plomion C. et Savouré A., Geographical diversity and genetic relationships among Cedrus species assayed by AFLP. Tree Genetics & Genomes. 2006. 275-285.
2001
Bou Dagher-Kharrat M., Grenier G., Bariteau M., Brown S., Siljak-Yakovlev S. et Savouré A. 2001. Karyotype analysis reveals interspecific differentiation in the Cedrus genus despite genome size and base composition constancy. Theoretical and Applied Genetics.103: 846-854.
Bou Dagher-Kharrat M. , S. Mariette, B. Fady, F. Lefevre, G. Grenier, C. Plomion, S. Arnould. 2001. Analysis of Cedrus genetic geographic diversity using AFLPs. In C. Plomion [ed.], Wood, breeding, biotechnology and industrial expectation, Bordeaux, France, June 2001, 93. INRA, Bordeaux, France.
Talhouk, S. N. , Zurayk, R., Khuri, S. Conservation of the coniferous forests of Lebanon: past, present and future prospects. Oryx. 2001. 35: 206–215. doi: 10.1046/j.1365-3008.2001.00180.x
2000
Khuri S. , Shmoury M.R., Baalbaki R., Maunder M., Talhouk S.N. Conservation of the Cedrus libani populations in Lebanon: history, current status and experimental application of somatic embryogenesis. Biodiversity & Conservation. 2000. Volume 9, Issue 9 , pp 1261-1273. Doi: 10.1023/A:1008936104581
1999
Bou Dagher-Kharrat M. , Grenier G., Bariteau M., Siljak-Yakovlev S., Savouré A. Genome size and Karyotype investigations in Cedrus genus. Cytogenetics and Cell Genetics. 1999. 85 - 134.
1984
Paul Mouterde. 1984. Nouvelle flore du Liban et de la Syrie. Editions de l'Impr. catholique, Beyrouth, 3 tomes.
Endemic to:

Lebanon, Syria and Turkey

Habitat :

Sols calcaires bien aérés.

Life Forms:

Phanerophyte

IUCN threat status:

menacée, en voie de regression et protegée
Chromosome Number:

2n = 24

Genome size:

32.5 pg/2C (Bou Dagher Kharrat et al. 2001)
Botanic Description
-Peut atteindre 40 m.
-Fût trapu et cime large, tabulaire dans la vieillesse.
-Écorce gris-foncé.
-Feuilles persistantes, spiralées sur les pousses longues, en rosette sur les pousses courtes, vertes, parfois glaucescentes, 15-35 mm. sur 1 mm. de largeur.
-Fleurs en chatons dressés portés par un court rameau.
-Fleurs solitaires à l'extrémité de courtes pousses, dressées.
-Cône 7-10 cm. sur 4 à 7, pourpre violacé puis gris-verdâtre.
-Graine cunéiforme, largement ailée.
Seeds
Distribution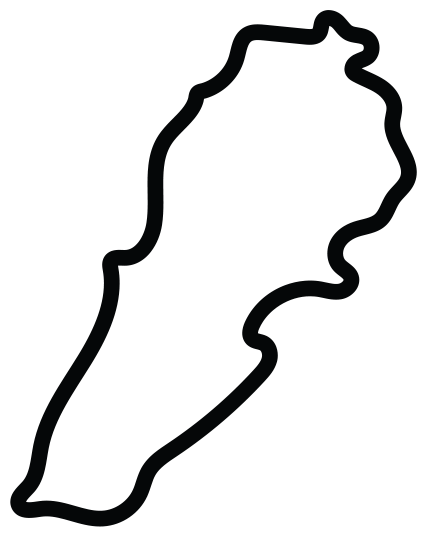 This work is licensed under a
Creative Commons Attribution-NonCommercial-ShareAlike 3.0 Unported License
.