Species:
Iris palaestina (Baker) Boiss.
Common name:

Iris de Palestine

Arabic name:

سوسن فلسطين
2013
Bou Dagher-Kharrat M. , Abdel-Samad N., Douaihy B., Bourge M., Fridlender A., Siljak-Yakovlev S., Brown S.C. Nuclear DNA C-values for biodiversity screening: Case of the Lebanese flora. Plant Biosystems. 2013. DOI:10.1080/11263504.2013.861530
2009
Saad L. , Talhouk S.N., Mahy G. Decline of endemic Oncocyclus irises (Iridaceae) of Lebanon: survey and conservation needs. Oryx. 2009. 43, pp 91-96. doi:10.1017/S0030605308000380.
Saad, L. , Mahy, G. Molecular and morphological variation of rare endemic oncocyclus irises (Iridaceae) of Lebanon. Botanical Journal of the Linnean Society. 2009. 159: 123–135. doi: 10.1111/j.1095-8339.2008.00896.x
2003
Saad L., Khuri S. 2003. Hanging in there by a fall The Oncocyclus of Lebanon. BIS Yearbook. pp 50-53.
2002
Georges Tohmé & Henriette Tohmé. 2002. A THOUSAND AND ONE FLOWERS OF LEBANON. Publications of the LEBANESE UNIVERSITY, Beirut, Republic of Lebanon.
1997
A Guide to Species Irises. Cambridge University Press. British Iris Society, Species Group.
1984
Paul Mouterde. 1984. Nouvelle flore du Liban et de la Syrie. Editions de l'Impr. catholique, Beyrouth, 3 tomes.
1977
Avishai M. , Zohary D. Chromosomes in the Oncocyclus Irises. Botanical Gazette. Dec. 1977. Vol. 138, No. 4, pp. 502-511. Published by: The University of Chicago Press.
1974
Dykes W.R., The Genus Iris. Cambridge University Press.
Endemic to:

Lebanon and Palestine

Habitat :

Terrains boisés
Botanic Description
-Bulbe ové 1-2 cm. de large, entouré de tuniques coriaces, noirâtres.
-Feuilles 5-6, distiques, sessiles, lancéolées, arquées, acuminées, de largeur variable, jusqu'à 2 cm., canaliculées-repliées, à marge légèrement membraneuse et ciliolée, rnultinerviées.
-Spathes uniflores, lancéolées cuspidées, membraneuses.
-Tube dépassant un peu la spathe.
-Périanthe blanc, parfois un peu bleuâtre, mêlé de jaune, 5-6 cm., à tépales de largeur variable suivant les stations et les pieds.
-Tépales externes dressés ou étalés, à partie inférieure ovale, pouvant dépasser 2 cm. de large et lame terminale souvent réfléchie, d'un jaune plus prononcé que le reste.
-Tépales internes réfléchis, jaunâtres, 2 cm. de long, étroits, lancéolés.
-Branches du style longuement bifides, à marge entière.
-Filaments et anthères à peu près égaux, atteignant du périanthe.
Distribution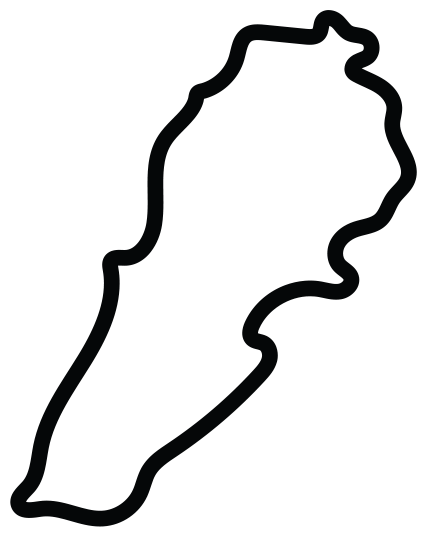 This work is licensed under a
Creative Commons Attribution-NonCommercial-ShareAlike 3.0 Unported License
.