Species:
Cyclamen libanoticum Hildebr.
Common name:

Cyclamen du Liban

Arabic name:

سكوكع لبناني
2016
Dani, F. , Mhammad, H., Hala, C., Helene, R. and George, A., 2016. Effect of cyclamen libanoticum (myrsinaceae) extracts against the maggots of the housefly, musca domestica (diptera: muscidae) and of the bluebottle fly, calliphoravomitoria (diptera: calliphoridae).
2014
Culham, A. and Könyves, K., 2014. Cyclamen libanoticum, a species that knows its identity!. Cyclamen, 38(2), pp.61-63.
Martyn Denney , richard Bailey and Keith Fry, 2014. Cyclamen libanoticum field study, March 2014.
2013
Haber, R. & Semaan, M. 2013. Cyclamen libanoticum, a rare and beautiful endemic of Lebanon. Pp. 307-310 In Mathew, B. ed. (2013) Genus Cyclamen: In Science, Cultivation, Art and Culture. Royal Botanic Gardens, Kew.
1974
Ietswaart, J.H. , 1974. Cyclamen× wellensiekii (C. libanoticum× C. cyprium) hybr. nov. Acta Bot. Neerl, 23(4), pp.555-559.
Endemic to:

Lebanon

Habitat :

Dolomitic limestone, deciduous and evergreen oak woodlands

Life Forms:

Geophyte

IUCN threat status:

EN
Chromosome Number:

2n=30

Genome size:

11.62pg/2C
Botanic Description
-Tubercule de couleur noire, peu profondément enterré sans cependant émerger à la surface du sol.
-Feuilles à bords non denticulés, plus ou moins profondément cordées à la base, ovées orbiculaires, 7-12 X 5-10 cm., triangulaires mais obtuses au sommet.
-Face supérieure d'un vert foncé à zones plus claires.
-Face inférieure d'un pourpre profond.
-Ces feuilles apparaissent dès l'automne et ont toute leur taille en novembre, tandis que les fleurs, en bouton dès cette date, ne s'ouvrent que fin février et aux premières semaines de mars, portées par des scapes flexueux, couchés ou ascendants.
-Diamètre de la fleur épanouie 2-3 cm., à lobes réfléchis de 2 cm., rose clair ne tirant pas sur le jaune, marqués d'une tache foncée à la base.
-Lobes du calice linéaires, un peu aigus.
-Capsule entourée par le scape circiné, commençant à se former dès fin mars.
Seeds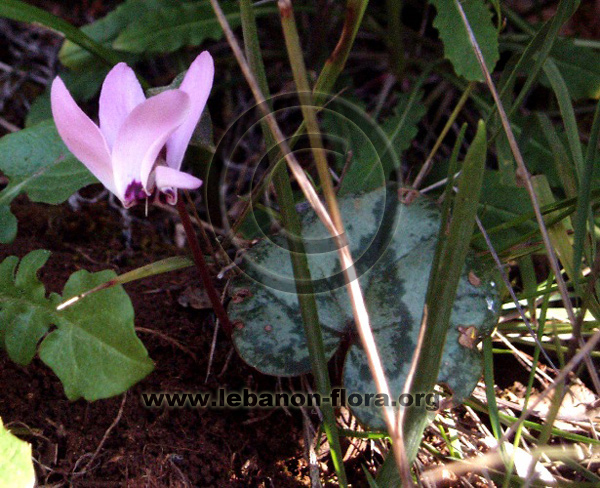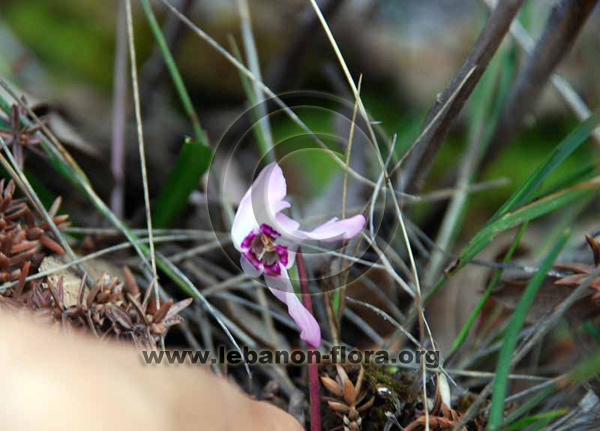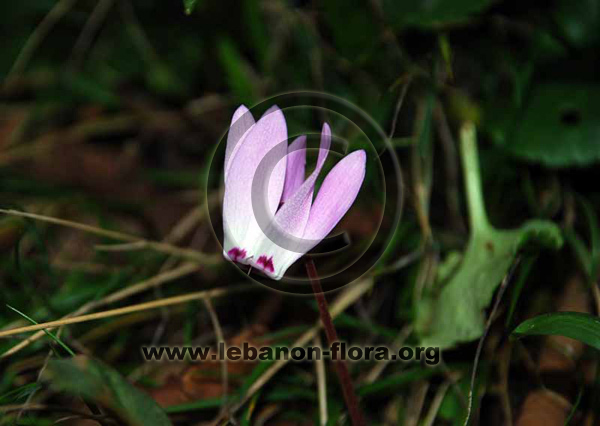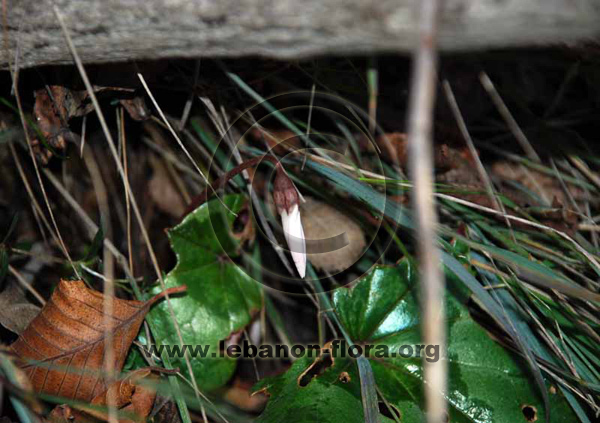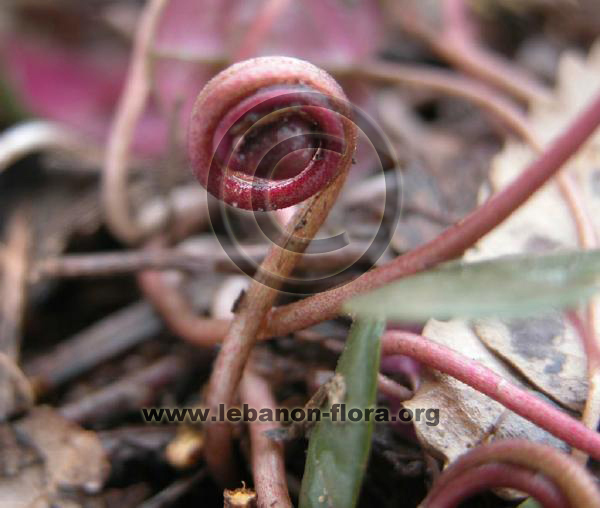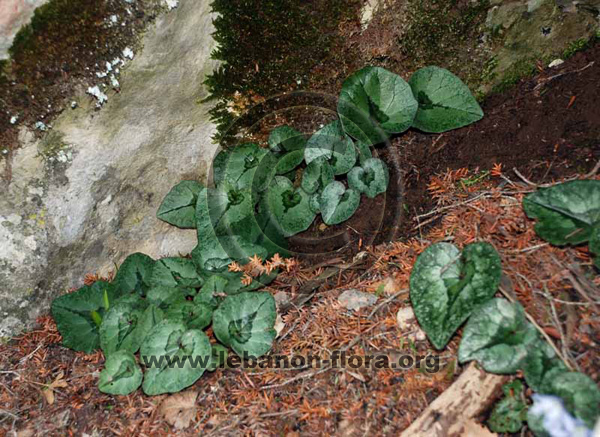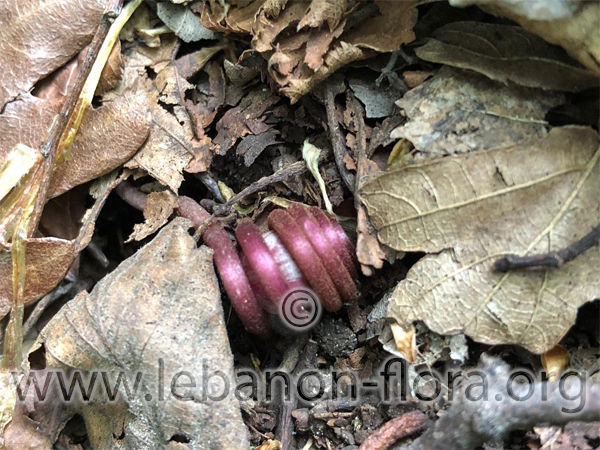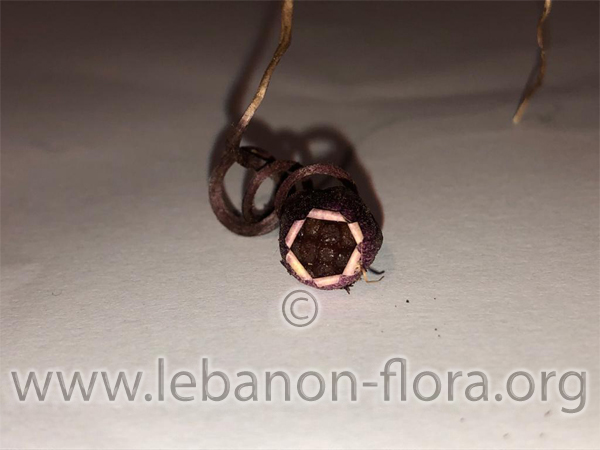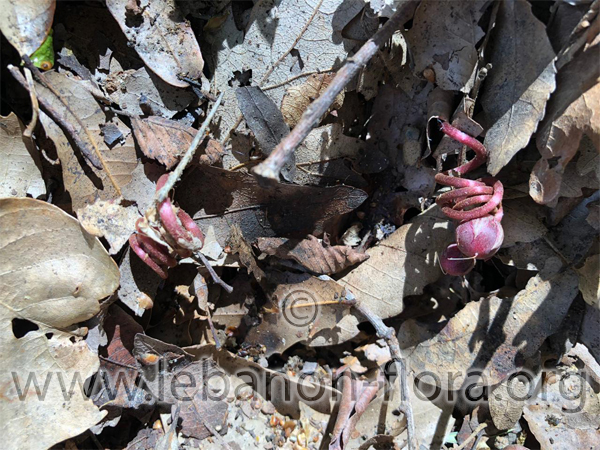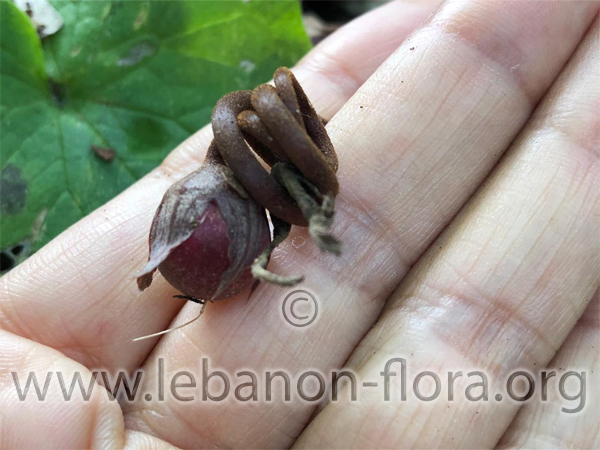 Distribution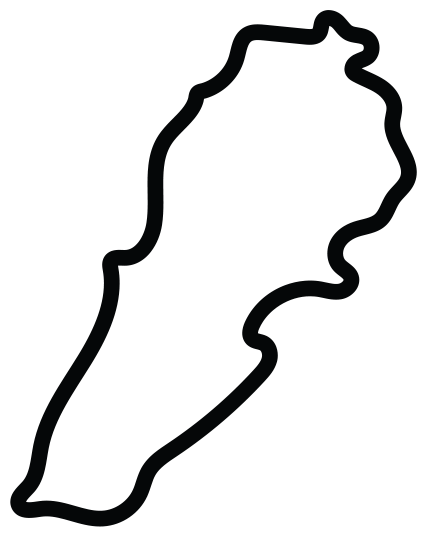 This work is licensed under a
Creative Commons Attribution-NonCommercial-ShareAlike 3.0 Unported License
.