Species:
Astragalus berytheus Boiss. & Blanche
Common name:

Astragale Beyrouth

Arabic name:

كثيراء بيروت
2020
Abdel Samad N. , F., Medail, F., Baumel, A., Siljak Yakovlev, S., Roukoz, A., Tohme, G., Bou Dagher Kharrat, M. (2020). New insights on the conservation status of the Endangered coastal endemic plant Astragalus berytheus (Fabaceae) in Lebanon. Oryx, 1-3. doi:10.1017/S0030605320000149
2015
Georges Tohmé et Henriette Tohmé. 2015. Les plantes de la côte libanaise. Lebanese Science Journal, 16(2): 119- 138.
2013
Abdel Samad F., Baumel A., Juin M., Pavon D., Siljak-Yakovlev S., Médail F., Bou Dagher-Kharrat M. Phylogenetic diversity and genome sizes of Astragalus (Fabaceae) in the Lebanon biogeographical crossroad. Plant Systematics and Evolution. 2013. DOI 10.1007/s00606-013-0921‐8
M. Bou Dagher-Kharrat , N. Abdel-Samad, B. Douaihy, M. Bourge, A. Fridlender, S. Siljak-Yakovlev & S. C. Brown (2013) Nuclear DNA C-values for biodiversity screening: Case of the Lebanese flora, Plant Biosystems - An International Journal Dealing with all Aspects of Plant Biology, 147:4, 1228-1237, DOI: 10.1080/11263504.2013.861530
2007
Khaled Tawaha , Feras Q. Alali, Mohammad Gharaibeh, Mohammad Mohammad, Tamam El-Elimat, Antioxidant activity and total phenolic content of selected Jordanian plant species, Food Chemistry, Volume 104, Issue 4, 2007, Pages 1372-1378, ISSN 0308-8146, https://doi.org/10.1016/j.foodchem.2007.01.064.
Endemic to:

Lebanon and Palestine

Habitat :

Coastal sand

IUCN threat status:

CR
Chromosome Number:

2n=16 Ch

Genome size:

2.81 pg/2C
Botanic Description
-Tiges couchées, allongées, à poils étalés assez denses, courts, 10-50 cm. Stipules triangulaires, vertes, veinées. Feuilles à 7-10 paires de folioles linéaires, souvent très courtes, hispides.
-Pédoncules égalant les feuilles ou plus courts, hispides. Grappes de 7-8 (10) fleurs.
-Calice rougebrun, 5-6 cm., à poils noirâtres.
-Dents 2 fois | plus longues que le calice, 12-16 mm. Corolle rose-pourpre 2.5 plus longue que le calice, 12-16 mm.
-Gousse lancéolée, trigone, à peine arquée, 20-22 mm. de long, creusée légèrement à la face dorsale, faiblement carénée à la face ventrale, superficiellement chagrinée-réticulée, portant des tubercules très petits et des poils épars.
Seeds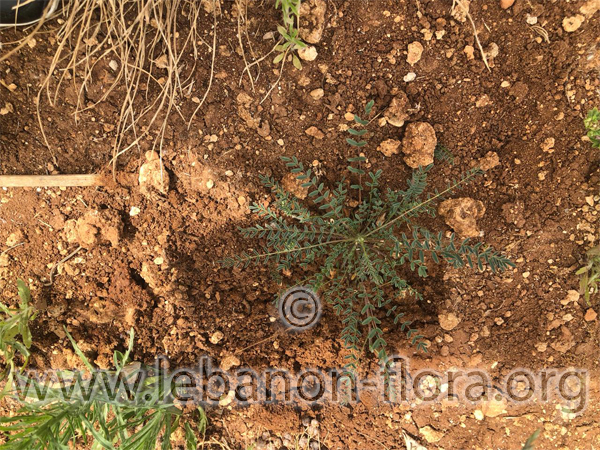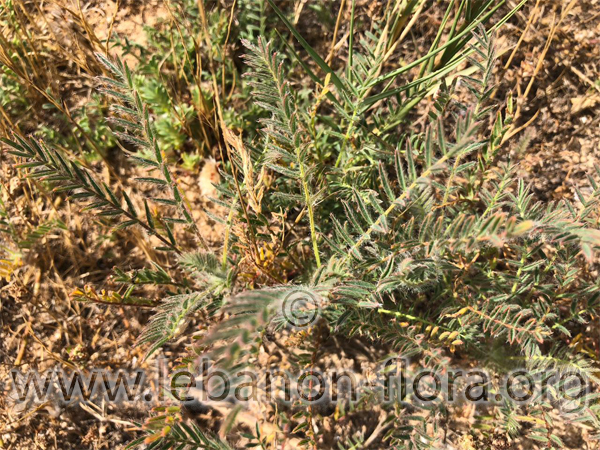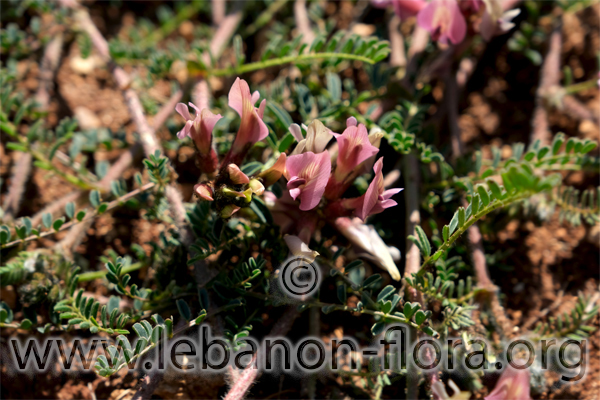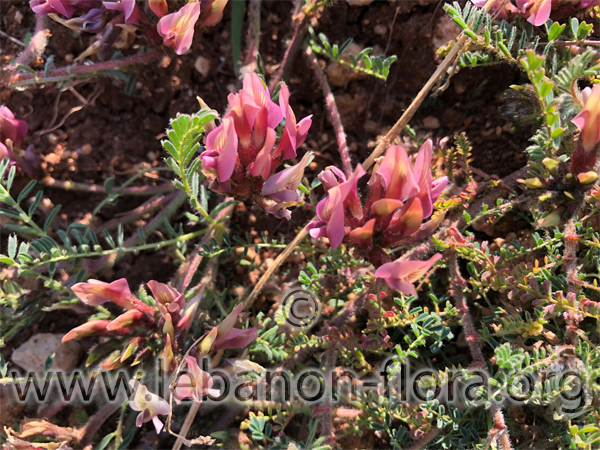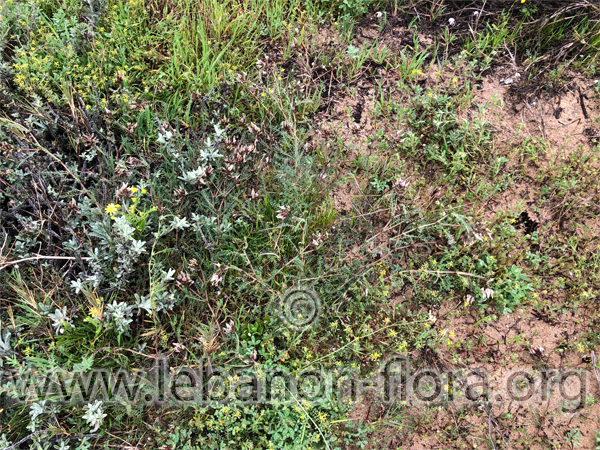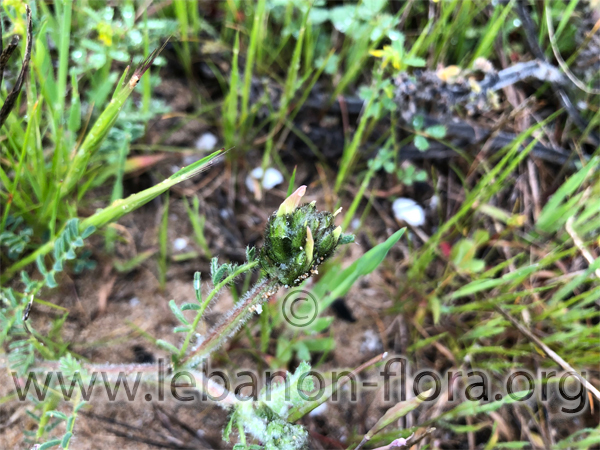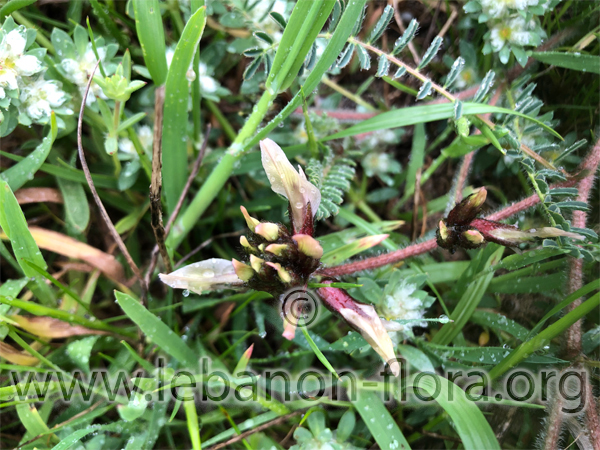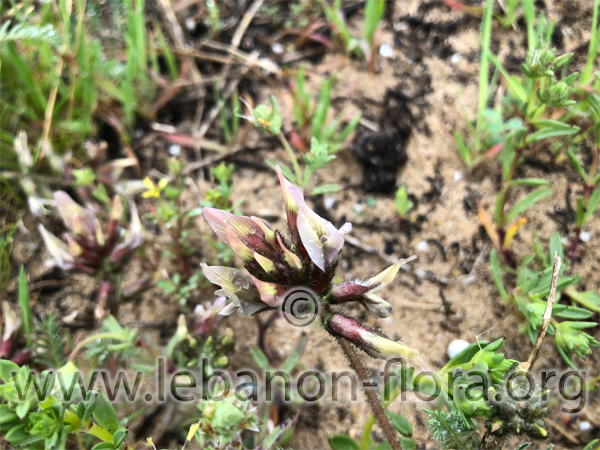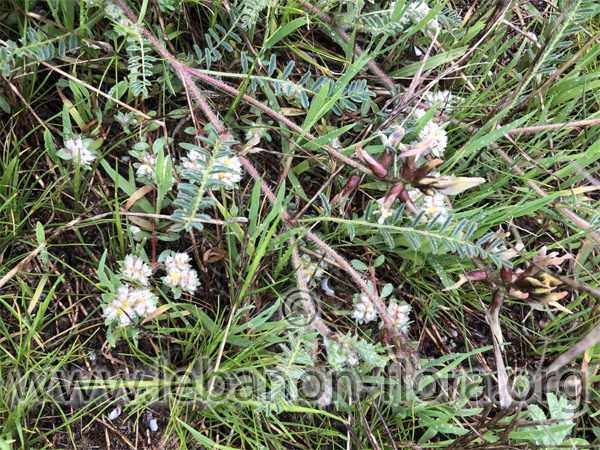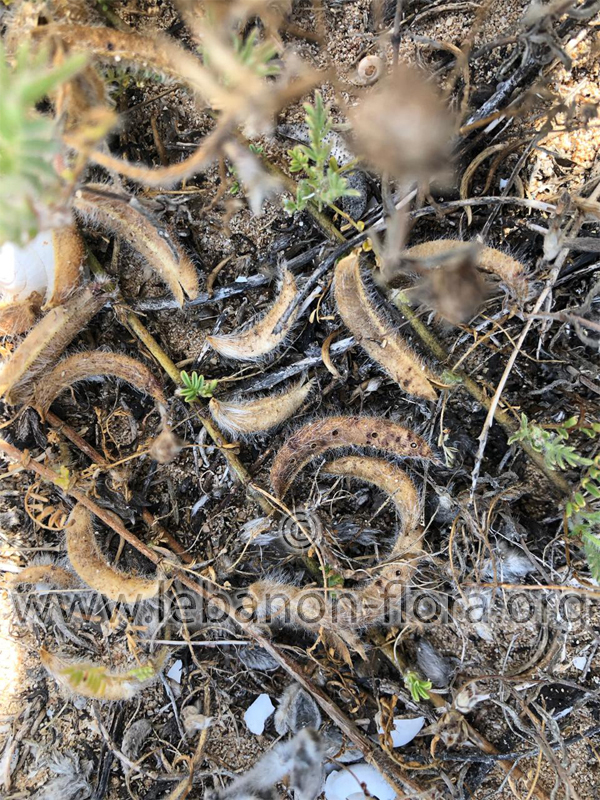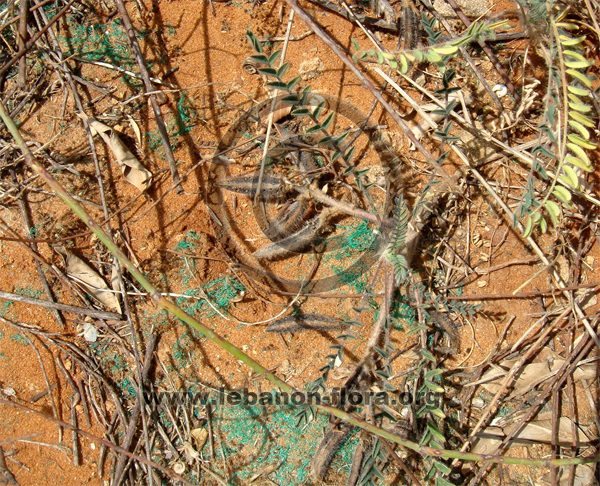 Distribution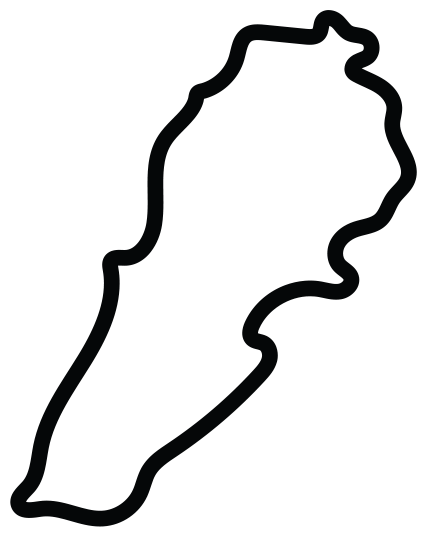 This work is licensed under a
Creative Commons Attribution-NonCommercial-ShareAlike 3.0 Unported License
.